"You must speak to Jesus not only with your lips, but with your heart" Padre Pio. 
Ballynacally / Lissycasey Newsletter

Keep up to date with Parish news, events, information etc
P.P. Fr Albert McDonnell 085 7811823
Email: a.mcdonnell@killaloediocese.ie
Parish Office 065 6838135
Fr. Joe Hourigan 065 6834145; 086 8170700
www.ballynacally.com             www.lissycasey.com
18th & 19th Nov 2017 – 33rd Sun. in Ordinary Time – Year A

Email info@ballynacally.com or click HERE

Twitter: @ClondegadParish

Check us out on facebook! @ballynacallylissycaseyparish

Parish Office opening hours for the coming week:
Tues, Wed & Thurs 10am – 3pm


Deadline for newsletter entries is 12pm noon on Thursdays
Christ the King Church, Ballycorick - Masses:
Sat Nov 19th          7pm        Mass for all who have died
during the year
Thurs Nov 23rd     9.30am  Mass for the People
Fri Nov 24th           9.30am  Mass
Sat Nov 25th          7pm        Mass with Confirmation Enrolment

Our Lady of the Wayside Church, Lissycasey - Masses:
Sun Nov 19th         12pm     Anniversary Mass for the following:
Kathleen Brennan, Lissycasey
Bridie Breen, Crown, Lissycasey
Martin & Lena Coughlan, Tubber
John Donnelly & Deceased Family Members
Kathy Murphy, Clonwhite, Cree
Dympna O'Sullivan, Frure
Sean Hill, Cloncolman
Margaret Ann Hill, Caherea
Mollie & Tadgh Kelly, Caherea
Michael Twomey, Portlaoise
Con Keating, Cahirciveen, Co Kerry
Martin & Mary Eyres, Cranny
Margaret, Joe & John T. O'Sullivan, Kilmihil
Pat & Mary Ann Clancy & Deceased Members of the Clancy & Markham Families, Caherea
Rita Finn, Lisnagry
Martin McNamara, Leimnaleha
Jimmy & Margaret McNamara, Leimnaleha
PJ & John Clancy & Deceased Family Members, Boloughera
Mary & Buddy O'Connell, Cloncolman & Decomade
Patricia Hanrahan, Decomade
Vera & Martin Melican, Frure
Tommy Ronan, Breaffa & Deceased Family Members
Paddy Cleary, Ballinashena & Deceased Family Members
Michael & Theresa Coghlan, Lissycasey & Ennis
Suzanne & Pakie McMahon, Boloughera
Mrs Mary Clohessy, Fenagh, Lissycasey
Blessing of Graves will take place immediately after Mass
Tues Nov 21st       9.30am  Mass (Holy Souls)
Wed Nov 22nd       9.30am  Mass
Sun Nov 26th         12pm     34th & Last Sunday in Ordinary Time

Eucharistic Adoration in Lissycasey every Wed 6pm – 10pm

November Envelopes are available in both churches. We invite you to write the names of your deceased family or friends & return the donation envelope any time during the month of November

Vigil Prayer Service, Lissycasey: A four hour vigil prayer service will take place at Lissycasey Church 8pm-12am on Sat, Dec 2nd. The first hour and last hour will be by candle light. Rosary will be recited at 9pm & 10pm, closing with benediction at midnight. This will be a beautiful opportunity for prayer  to end our current liturgical year and  begin Advent, in preparation for Christmas.

Ballycorick Eucharistic Ministers:
Sat 25t: Josephine Curtin, Mary Spain, Michael Kelly
Lissycasey Eucharistic Ministers:
Sun 26th: Kathleen Breen, Kay Meaney, Mary Hill
Ballycorick Reader:  
Sat 25th: Tim Hannon       
Prayers of the Faithful: Colm Meaney, Sean McAllister
Lissycasey Readers:
Sun 26th: Orla Coughlan   Prayers of the Faithful:Rebecca Cahill
Ballycorick Servers:
Sat 25th: Darren Sheehan, Alan Sheehan, Sam Garry
Supervisor: Melissa Garry
Finances:                             Ballycorick          Lissycasey
Nov 11th & 12th                      €300.63                 €462.55
Sacred Heart Messengers for December are available in the sacristy of Ballycorick Church for promoters.
Baptisms: We Welcome into our Faith Family: Libby Belle O'Shea, Paradise, Ballynacally
Ballycorick Church: A gentle reminder – when receiving Holy Communion please go up the main aisle and return by the side aisles to avoid congestion.
Aged 16-35? Looking for a place to share and grow in faith? Youth 2000 prayer meeting, Fridays, Ennis parish office at 7:30pm. Join us for adoration, music, reflection, chats and tea. All welcome.
'Young at Heart' Lissycasey Christmas Party: We had a lovely 'Young at Heart' gathering recently where we discussed widening our invitation to our Christmas Party in December. We are open to the possibility of having the Christmas party in Lissycasey Hall. In order to do that we will need names by Nov 20th. If you would like to join us for our Christmas party please give your name to the usual organisers of our Young at Heart group. If we do not have more names than our usual gathering we will continue to have our party in the Pastoral Centre. Date of the party is to be decided.
Mass of Anointing, Ballycorick: We extend an invitation to all our Senior Citizen's to Mass of Anointing followed by Refreshments and Entertainment on Wed, Dec 6th at 1pm. If you know of someone who might be interested in attending, please let them know. Transport is available to those who require it – please phone Nancy on 087-6279567 to request transport.
Cahercalla Hospice Draw Results:
1st Prize €650: Paddy Callinan, Clare Road, Ennis
2nd Prize €200: Maire DeBurca, Larchill, Ennis

Clondegad GAA News: Clondegad's U21s play in the B final this Sunday. Game is on in Gurteen at 1pm where they play Cratloe . U8s + u10s train in the Astroturf Kildysart when the weather allows. The Club's Race night will be coming up in the near future.
Clondegad GAA Lotto: Winning Numbers: 1, 4, 5, 24. 1 match 3 winners €200: Dermot Gavin, Mount, Ballynacally. Jackpot: €6200. Next venue: Local Inn 20/11/17 3 tickets for €5

Fergus Athletic Club: The local club were well represented on Clare teams that competed at the uneven age cross country championships held in Tipperary last Sunday. Liam Keane ran another great race in the boys U/9 race finishing 5th to lead Clare to the silver medal position. Luke Griffin was placed 9th in the boys U/15 event to help Clare to the Gold position, Aine Garry finished 14th in a very competitive girls U/17 race and in the process helped Clare to the silver medals. Thomas Faughnan Barry Conway Daire Culligan and Roisin Garry were others from the local club who represented the county very well on the day. Waterford's WIT arena will be the venue on Sunday Dec 17th for the all Irelands in the uneven age cross country championships.
Community Games AGM: The Ballynacally/Lissycasey Community Games AGM will take place on Tuesday 21st November 9pm at Fanny O'Deas. New volunteers are very welcome to attend.
Lissycasey GAA Club news:Lissycasey U13s finished 2017 with a presentation of the U13 West Clare Medals at Frure. A lovely evening was had by all. Lissycasey Scor team will compete in Scor na nOg at Lissycasey Hall on Friday next Nov 24th at 7.30p.m.
Tickets for Lissycasey Annual Fuel raffle are now on sale. There are 15 great prizes on offer. 1000 liters Home Heating oil, Ton of Coal, Briquettes, Vouchers, Turkey etc. Tickets are €5 each or 3 for €10. Available at all local outlets and from Lissycasey club officers and players.
Lissycasey Lotto: 13/11/17: Numbers 6-7-10-25: No jackpot/match 3: Lucky Dip: John Carey, Kilmihil; Mary & Ciarán O'Sullivan, Frure; Joe Hayes, Lissycasey; Mary McCarthy, Drumdigis; Smart lotto Declan Meaney Lismorris. Lotto 20/11/17 €10,400: Play Lotto online https://game.smartlotto.ie Lotto €2 or 3 for €5.00

The Annual General Meeting of Fergus Rovers Ladies Football Club will take place on Friday Nov 24th at 8p.m. in the Frure. All team managers will present a brief report on their teams activities during the year in which the club contested a number of finals winning the U 12 Div. 1 league and the Adult Div. 2 league. A large turn out of members is expected with new members always welcome.

Poker Classic: A poker classic will take place in Griffins Bar Ballynacally on Friday 8th December to raise funds for the fire safety equipment for the community centre. The Development group hopes to attract a large crowd on the night to help offset the rising cost of running the hall. The cost of updating the fire safety equipment is €5000 so your support will be greatly appreciated! Keep an eye on Ballynacally developments Facebook and website for more info.
Grupa Ceoil: Ballynacally Grupa Ceoil in association with Clare Arts Office resumes after the summer break on this Sunday evening November 19th 6.30pm to 8 pm in the community centre. Denis McCauliffe will lead the session on Fiddle, Banjo and Mandolin. Anyone that would like to play as part of a group or learn a new tune are welcome. Also if you can sing, you are welcome too. More information contact Carmel Sheehan.
Lissycasey Tidy Towns are disappointed to say that Santa at the Cascades will not go ahead this year for reasons beyond our control. We hope to be back next year bigger and better!
Reaching out: to any Hehir families from the Ballynacally area whose 3rd/4th great grandfather might have been James Hehir. He was a large farmer in this area in the early 1800s.
James had around 16 children from two wives (Mary O'Connell was his 1st wife, 2nd unknown).  One of his sons was a Tithe Proctor (tax collector) for the parish and a grandson of his, a catholic Monk, died on route to Argentina.
Please contact Séamus O'Donoghue on 086 0878762, or email denshay@eircom.net, if you think you might have information."
Thank you to all who supported the recent table quiz in aid of Fr David on the night and for all donations received. Donations are still welcome at any time and can be dropped in to the Parish Office.
The Apostolic Society would like donations of Perpetual Mass Cards that are no longer needed. Please leave the card in tact but cross out the name on the card if you wish. They can be left into the box at church porches. Please also remember to save your postage stamps – particularly at Christmas time. Stamps can also be dropped into the box at church porches at any time of the year. 
Meal & Music: Senior Citizen's Outing to Moneypoint on Jan 14th 2018. (65 Years and over) Anyone interested, please contact Noel Cleary on 087-2952134 or Mary Daly on 086-2363273. Transport will be provided.
Health Care Assistants Required: Full & Part time hours available. QQI Level 5 in Health Care Support/Community Health or similar. Patient Moving & Handling. If currently studying for this award, applicants will also be considered. Experience required.
Contact: 065-6868222 or Email clare@bluebirdcare.ie
Counselling: West Clare Family Resource Centre facilitates a counselling service for Adults, Teenagers and Children. This is available to people who, for any number of reasons, may not otherwise be able to access counselling.
To find out more call West Clare Family Resource Centre on 065-9052173.
Matt Talbot Novena, Shannon: The second last evening and eight session of our Matt Talbot Novena takes place at 7pm on Tuesday in SS John & Paul Church, Shannon. Our speaker this week will be Senator Rónán Mullen, Independent Senator, Seanad Eireann. Praying each week for all suffering or sharing in the life of addictions. Petitions/Prayers of thanksgiving can be left at the shrine or sent to the special petition email on shannonparish.ie where the Novena can also be watched live each week. Please come along and bring a friend to this very special Novena. A warm welcome awaits!
Clare Stroke Support club meeting will be on Monday 27th November from 12 noon to 2pm in Fahy Hall, Roslevan. For details contact Mary Tobin 087 254 6742
Rinka Pop-up day @ Lissycasey Hall Saturday 25th November 10am - 2pm. Drop your kids off and let us entertain them 4 hours while you get some Christmas Shopping done stress free! For more details and bookings call/text Audrey on 0860792516 or via the Facebook page @ Rinka West Clare. Booking is essential
ENCIRCLING IRELAND WITH A HUMAN ROSARY: On Sunday 26 Nov 2017, the Feast of Christ the King, at 2:30pm, we are going to the coasts of Ireland to pray the Rosary for the Preservation of Faith in Ireland and the Protection of Life in Ireland.
Please join us at the Quay in Ballynacally (Roscliff Road past the school) for prayers and blessings at 2.30pm
Other locations in Clare: Lahinch Prom (at the lifeguard station), Loop Head Lighthouse and Kilkee at the bandstand. For a full list of locations (being updated daily) around Ireland, have a look at www.coastalrosaryireland.ie

The Pilgrim Icon of Divine Mercy
Bringing Graces to each Parish, Home, Family & Devotee!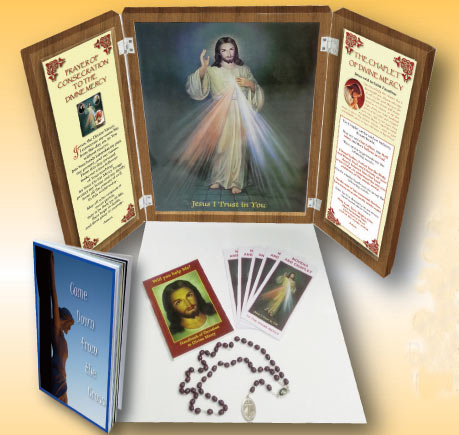 The Pilgrim Icon of Divine Mercy has been donated to our parish. It is available from the Parish Office so we encourage people/families to invite Jesus the Divine Mercy into their homes for one week.
Once a day for 7 days, pray the Divine Mercy Chaplet in front of the Pilgrim Icon consecrating your home and your family to Divine Mercy. Make it a very special week in your life with Divine Mercy as an honoured guest!
Phone the Parish Office on 065-6838135 Tues-Thurs 10am -3pm or text 087-4160385 to request the icon for your home for a week